At SPOC, we're leaders in our industry. That's a fact. And way more often than not, we're ahead of the pack in the design and manufacture of variable frequency drives for upstream and midstream applications in the oil and gas industry. Yet, with that position as a pacesetter, comes a need to train our customers, resale partners and our OEM base to help them get the most out of our innovative, leading-edge products.
That need to educate is a responsibility we take seriously and one of many reasons why we're thrilled to welcome Joseph Gunter as our new Technical Trainer. With more than 20 years of experience in education, design, engineering and general sciences, Gunter will apply his diverse expertise as he oversees a reinvention of SPOC's approach to training and builds a digital curriculum that includes both customer-learning tools and internal development.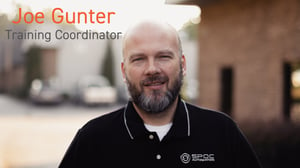 Gunter's career began at the ITT Technical Institute in 1998 as an instructor. It was there he won, from among 850 faculty members, the school's National Instructor of the Year award. In 2013, he began working at the University of Alabama at Birmingham as a Web Communications and Digital Media Specialist, where he utilized a variety of cutting-edge technologies to communicate with internal stakeholders and the UAB community at large.
"This is a role—that of a trainer—that we've been envisioning for quite some time," says Bobby Mason, President of SPOC Automation. "We've just been looking for the right individual, and in Joseph, we found the perfect fit. He's not only an excellent educator, but he has experience teaching at the adult level and has a background in technical subjects and in graphic design."
"All of that experience," continues Bobby, "will allow him to digitize and build out world-class training systems for our customers as well as our employees. That will help us set the bar even higher internally and help our customers be even more successful deploying our automation technology."
Gunter graduated from Auburn University in 1993 with a Bachelor degree in Environmental Science. He earned a Master of Education in Instructional Technology from Troy University in 2004.
He says of his new job "I am excited about working at SPOC because it is an awesome place to work, and I am getting back to what I love—training." He also notes that as a resident of Trussville, where SPOC is headquartered, he's happy to be working so close to home and in a community that is close to his heart.
Gunter and his wife, Cristy, moved their family to Trussville in 2008. There, they raised four wonderful children, who, he notes, "are children no longer. Our girls will graduate from high school this year, and we are preparing for life as empty nesters."