Trussville, Ala. – SPOC Automation welcomes Reed Simms as their new Mid-Continent Sales Manager. Simms will be responsible for leading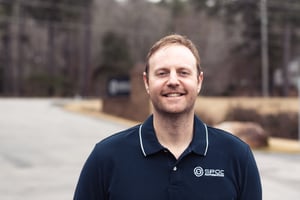 business growth and advancing brand credibility. He brings more than 10 years in sales, account management, and customer service.
His career began with Oklahoma Electric Cooperative (OEC) as a Customer Service Representative. He also served as a Senior Construction Sales Representative for Republic Services, Inc. in Oklahoma City, Okla. Next, Simms served as a Sales Representative with Capital Distributing in Oklahoma City, Okla.
Simms previously worked as an Account Manager and then later as an Application Specialist for J.A. King in Oklahoma City, Okla. While he was at J.A. King, he was awarded Top Salesperson in 2016. He was selected to be a part of Special Task Force Team to assist the CEO with transitional changes within J.A. King.
"Reed will be a tremendous addition to our team," said Bobby Mason, President of SPOC Automation. "He possesses superior interpersonal skills, personal integrity, vision and ambition which will help advance SPOC to the next level."
Simms graduated the University of Oklahoma in 2007 with a Bachelor of Arts in Psychology. He earned his MBA in Business Administration and Management in 2012 from Southern Nazarene University.
About SPOC Automation
SPOC Automation builds world-class variable frequency drive (VFD) solutions for the oil and gas industry. SPOC engineers and packages artificial lift controls and automation technology that increases oil and gas production, lowers lifting costs and saves energy. As the leading artificial lift controls manufacturer in North America, SPOC applies decades of automation experience to equipment and processes to make products that help our customers produce more and spend less. To learn more, visit www.spocautomation.com.