SPOC Automation Recognized As Finalist For "Veteran Friendly Company" --Two Employees Also Recognized as Veterans of Influence
SPOC Automation was honored to be named a "Veteran Friendly Company" by the Birmingham Business Journal this past week.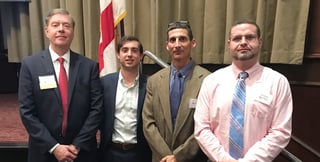 L to R: Doug Markham, Grant Todd, John Davidson, and Brian Beard
On top of that, our SPOC Automation Chief Financial & Operating Officer Doug Markham was named a "Veteran of Influence," and our Vice President of Well Optix Grant Todd was named a "Rising Star- Veteran of Influence."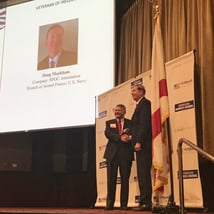 Doug Markham served in the Navy during Operations Iraqi Freedom and Enduring Freedom. He was deployed in 2009 and traveled throughout the Middle East in support of the Defense Logistics Agency. He believes that his time in the military taught him to be confident when facing challenges, to set goals and to get things done.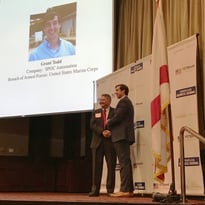 Grant Todd served in the U.S. Marine Corps during Operation Enduring Freedom and expresses that the most important lesson he learned while serving was to never underestimate an opponent. He also believes his experience in the military taught him to manage priorities well and not to get overwhelmed about tough decisions.
These awards were created to honor military veterans or active members of the Armed Forces who have made an impact on the Birmingham business world. Honorees such as Doug and Grant were selected based on their contributions to their companies, their industries, their leadership, and their service to our great nation.
As described in the BBJ write up, our company aids veterans in the workforce by offering an educational assistance program to encourage professional development. We also have supportive policies and practices in place for members of the National Guard and Reserve.
When asked what sparked our company to start its veteran program, we explained that in the electronics and software manufacturing business, there is a high demand for high quality technicians and engineers. The training and preparation provided by the U.S. military helps veterans contribute to organizations such as SPOC faster and more confidently.
Also expressed in the BBJ write up, we believe at SPOC that veterans often possess leadership skills in high-stress situations stemming from their world-class military training. As a result, our employees that have also served bring skills that help our company operate more efficiently and bring a work ethic that is unmatched.
SPOC Automation counts it an honor to employ those who have served the United States. To read the full Birmingham Business Journal Article click here.