SPOC Automation is pleased to announce new hire, Christian Mason has joined the Engineering team.
Mason is a graduate of the University of Alabama with a Bachelor of Science in Electrical Engineering. Mason brings his drive to solve challenges and desire to add value to others, which he exhibited during his co-op years at SPOC.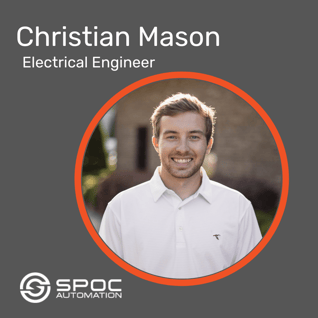 Mason's focus will be designing power and control systems for common DC bus systems for the marine industry, data centers and other smart GRID customers; interfacing with customers to assess their needs and provide solutions to complex power and control issues.
He will also be working with SPOC University to develop a training curriculum for new GRID products, for internal and external training uses.
"Mason's intelligence, work ethic, and leadership skills along with his beliefs are a perfect fit in our Lift Up culture," states Stacey Brooks, SPOC Engineering Manager. "All of those elements combined made him the perfect fit for our expanding engineer team as we move forward with SPOC Grid and hybrid electrical solutions."