Nothing's more frustrating than having to track down tech support. And nothing's more gratifying than getting instant attention and expert answers from people you truly trust. That was the basis for bolstering SPOC's support capabilities with our first-ever Live Chat feature. Now, whether you're inside an office, out on the road, or performing work at the well, you can get simple, speedy support from a SPOC specialist.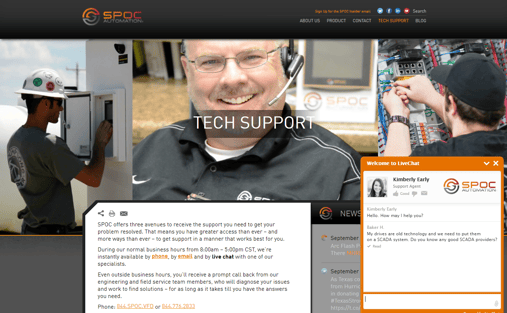 We were pumped about the potential of live chat tech support, and apparently you were too. Already we've heard rave reviews from customers who clicked for quick support. Here's a sampling….
One customer was interested in adding our JPS series drives to his legacy SCADA system, so he clicked to chat with us to hear our thoughts. In a few quick messages, our engineers determined his needs and provided specific guidance to successfully deploy our drives on his system. With our fast, direct answers to his questions, his new configuration was up and running in no time.
Another customer was searching for a schematic for a 460 amp HPS series drive so he could wire up analog field devices. He made a quick query on his cell phone, and we directed him to the wiring schematic affixed inside the enclosure main door (a handy feature for all SPOC drives). Now this happy customer is sold on SPOC's Live Chat.
We heard from one customer in Ecuador who needed technical help with sinewave filters on ESP applications. It seems he was experiencing problems with ESP's operating on legacy non-SPOC drives that did not have any output filters. Even though he was using our competitors' drives, he knew that SPOC support would give him faster answers than the other manufacturer. With a couple clicks, our engineering staff provided technical data and potential solutions, and determined that retrofit sinewave filters would fit his needs.
Another customer was perusing our website to find the right product for his pumping application. While he was looking, he clicked on SPOC's Live Chat for guidance and was directed to brochures, whitepapers, and other resources needed to make the right decision.
As you can tell, we're driven by the prospects of providing next-level support through SPOC's Live Chat feature. Have a question on pump or compression drive automation? We're just a click away!
In addition to our Live Chat feature, you can always visit us at SPOCAutomation.com, call us at 844.SPOC.VFD or drop us an email at sales@spocautomation.com.