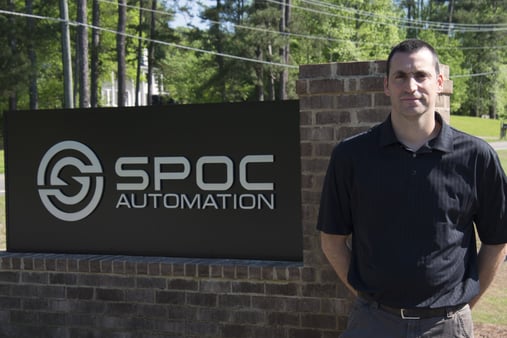 SPOC Automation is pleased to announce its recent hire of Oren Azrad, who will join the SPOC team as a Software Engineer at the headquarters in Trussville, AL. Azrad's extensive background as a controls engineer will help ensure SPOC Automation will continue to have industry leading technology.
Azrad joins SPOC Automation with over 10 years of systems, controls, and electrical engineering. He has worked in many different industries from automotive to steel. Most recently he worked as a Systems and Integration Engineer in the cement industry. Prior to his professional career, Azrad attended the University of Alabama, where he received many different awards including the NCAA All American Award. He later competed in the Sydney Olympics as a member of the Israeli Olympic Team.
"Oren will be a tremendous asset to our software development team. As we continue to develop new products and with the ongoing importance to control and monitor our equipment, it is paramount that we grow and expand our engineering department," says Bobby Mason, President of SPOC Automation. "We are excited to have his skills and talent added to our team."
Connect with Oren Azrad (email here).
For more information, please contact SPOC Automation at 205-661-3642, email SPOC Automation – pumpsmarter@spocautomation.com or visit the SPOC website at www.spocautomation.com.
SPOC Automation builds world-class variable frequency drive (VFD) solutions for the oil and gas industry. We engineer and package artificial lift controls and automation technology that increase oil and gas production, lower lifting costs and save energy. The largest independent artificial lift controls manufacturer in North America, we apply decades of automation experience to your equipment or process to make products that help you produce more and spend less.