There's an old adage in sales that goes something like this: "Attention follows attention. Keep your attention, your focus, on serving the customer and they'll follow you."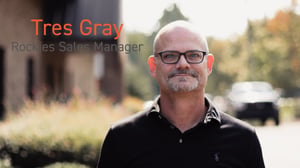 That, in a nutshell, describes Tres Gray's work ethic. Tres, SPOC Automation's new Rocky Mountain Sales Manager, is just that type of salesperson who believes you have to follow up with your clients in order to follow through with them. Throughout the sales process, he digs deep to understand their needs and provide the products and services to help them achieve success.
And just as he understands that sales is a "contact sport," he also believes it's a team effort. "Employees at the most successful companies work together in the best interest of not just their bottom line, but also that of their customers, even the communities in which we all work," says Tres. "That team spirit and more global-minded approach is definitely in the DNA at SPOC.
"It's a company that doesn't just sell variable speed drives," he continues, "but also solutions and opportunities. The company culture is one that goes the extra step and drives hard to exceed expectations."
"Tres is an extremely talented and dynamic individual who has many years of experience in the oil and gas industry," says Ted Wilke, vice president of SPOC Automation. "Throughout his career, he's shown a real willingness to work for his customers' best interests, to understand their needs and goals. In other words, he listens first and only then begins to talk about solutions.
"We're excited that he's joined our team," adds Ted. "He's going to bring in knowledge, as well as an absolute winning spirit and attitude. And that just falls in great with our culture here at SPOC."